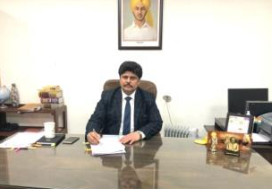 It gives me immense pleasure & pride to write for the college magazine. I graduated in the year 1995 in commerce stream with first class degree, received NCC C Certificate and was awarded college color for NCC. Prof BM Dogra had been a great guiding force in all these years who inspired me to become army officer. Later Prof Dinesh who had been friend to me, motivated me to aspire to serve the district as Deputy Commissioner and prepare for civil services. Consequently, I joined Punjab Civil services in the year 2012. The professors of my beloved college have played a very pivotal role in shaping up my overall personality. Whatever I have achieved today, it's all because of the valuable guidance of our learned professor's viz. Dr. B.M. Dogra, Dr. Dinesh and Dr. Mridula Duggal.
Friends, college days are the most relevant time of your life, don't let it go unplanned. Fix your goal, seek timely guidance, work hard in a planned manner towards you goal, stay focused, value the time, spend sufficient time in the library and respect you teachers.
I wish you all a life full of success and prosperity where you add value to people's life and bring laurels to our beloved college.
Major Amit Sareen
B.Com., M.A Pub.admin
Operation Vijay & Operation Meghdoot Verteran
ADC, S.B.S. Nagar,

At the very outset, I would like to express my heartiest thanks to S.L. Bawa D.A.V college family. I extend my warm regards to Sanjeev Kaushal Sir and PG Department of Computer Science & IT which has immensely helped me to succeed after pursuing my BCA and further study of MCA. S.L. Bawa DAV College has wonderful faculty and they are very co-operative. College provided us with well equipped Labs and Library, wonderful environment and opportunity to learn and grow academically. I am currently working as an Automation Engineer using UFT, Selenium,Java, VB Scripting, Python and designated as "Professional Quality Assurance" in Fiserv Private Limited Company.
The knowledge and transformation I had with this college is the reason I find myself successful today.
Thanks,
Kanwaljeet Kaur
BCA (2009-2012 Batch)
Automation Engineer
Fiserv (Fortune 500 Company)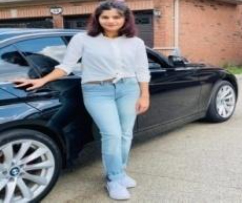 Thank you S.L. Bawa DAV College faculty and support staff for giving me this opportunity to write up my mind. In PG Department of Computer Science & IT, I've always been surrounded by many great teachers during my BCA and M.Sc IT, who put their hard- work and time so that we can grow and can make our lives better. Through hard work and commitment, they are making a difference in the lives of students. I am deeply grateful to S.L. Bawa DAV College.
Thanks
Harwinder Kaur
BCA (2012-2015 Batch ), M.Sc (Information Technology) (2015-2017 Batch)
IT Analyst (Technical Operations) Laurentian Bank of Canada

I am deeply indebted to SL Bawa DAV College, where I completed my Bachelor of Commerce in 2000. At the college, I enjoyed learning from lecturers with a high level of experience and commercial acumen. The classes, taught by a deep and accomplished roster of full-time professors, focused on theory and practice. Despite several years passing, the different study modes and quality subject matter remain highly relevant to today's competitive business landscape. The guidance from my teachers enhanced my skills and knowledge in business and people management, which helped me think more broadly and strategically.
Finally, a special mention to the fantastic support staff, who were always there to help.
Best regards
Paras Abrol CPA
Director Abrol Associates

Dr. Ekta Khosla presently working as Principal of R.R. Bawa DAV College, Batala is pride aluminus of our college. She completed B.Sc. Medical in 1993 from our college.